Long Distance Movers | How to prepare for a long-distance move
Dec 14
Are you considering a long-distance move? Whether across the country or to a new continent, making the jump can be both exhilarating and terrifying. Here are some tips to help make the process as smooth as possible.
Before packing: Ensure you know what to expect in your new home. Look up information about local attractions, housing costs, and job opportunities so that you can budget accordingly. Research cultural customs and laws to ensure you don't inadvertently break them. Prepare a list of items you will need to take with you, like clothing, medications, important documents, and other possessions. This can help you stay organized during the packing process. Once your belongings are packed up, ensure they are labeled correctly, so everything is clear when unpacking at your new home. It is also wise to notify critical entities such as banks, tax agencies, government offices, and other organizations of your address change ahead of time to avoid any problems later on. Also, inform family members and friends about the move as well. Moving can be an exciting adventure but requires much work and preparation. With the proper knowledge and resources, you can ensure your move goes as smoothly as possible.
Find a reliable moving company
Finding a trustworthy and dependable moving company is one of the essential elements of a long-distance move. Read reviews online and ask people who have had similar activities for recommendations. Once you have a shortlist of companies, contact each to discuss their process, services, and experience. Ensure the company is fully insured, offers quality customer service, and has transparent pricing. Furthermore, ask them if any national associations or certifications accredit them.
When you've found the right company for your move, it's time to make a plan. Start packing several weeks before the move and label all boxes clearly so that everything arrives at its destination safely. Try to get rid of anything you no longer need or want- fewer items means fewer costs for transportation fees. To make your move as smooth as possible, check in with your mover regularly leading up to the big day. It would help if you also told your friends and family when you're moving so they can help with last-minute packing or provide moral support. Tell them how much you would appreciate their help, and thank them afterward!
Let go of unnecessary things:
Moving is an excellent opportunity to downsize and eliminate any possessions that might weigh you down in the future. Donating or selling unneeded items can help lighten your load and save money on moving expenses. To ensure you don't miss anything, create a detailed inventory of all your items and go through them individually.
Before packing up, research the rules for moving to your new home state. If you are moving out of the country, find out what documents and licenses you need to settle in the foreign country. Additionally, check with your new city's or state's transportation department to see if there are regulations on what types of vehicles can be driven on their roads. This will help determine which car to bring along on your move and may even save you money in taxes or fees for registering a vehicle in the new area.
Start packing items that you don't need daily as soon as possible. This will help ensure that everything is packed and ready to go when the moving company arrives. Make sure you label each box as you pack them to keep track of the items in which boxes and make unpacking much simpler. When packing fragile items, such as dishes and glassware, use plenty of padding and cushioning materials like bubble wrap or packing paper to ensure that your possessions remain in good condition during transit. Make sure to clearly label any boxes containing fragile objects so that the movers know how to handle them. Additionally, remember to keep boxes manageable; this makes them too heavy and more difficult for the moving company to transport safely. Finally, before loading all your packed boxes onto the truck, double-check that nothing has been left behind!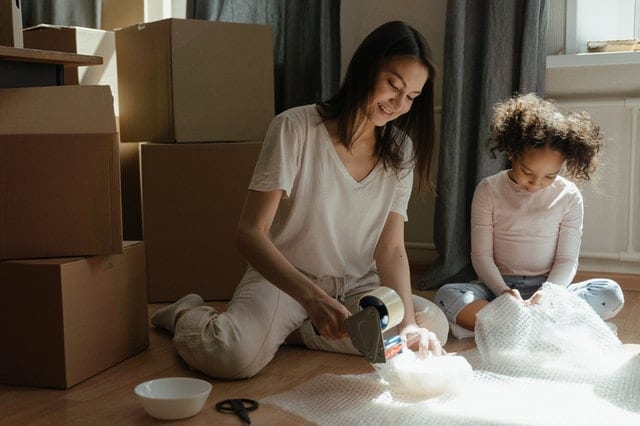 Create an inventory list:
As you pack, create an inventory list of the items that are being shipped so you can easily keep track of them. This list should include the item description, quantity, weight, and dimensions. Once your shipment is ready, you must determine the best shipping method. Several options are available such as ground shipping, air express, or international courier services. Each of these has varying costs and delivery times. One option may be more economical depending on when you need your items delivered and their destination.
Additionally, consider the level of tracking required for each shipment – some shippers offer detailed tracking information, while others only provide basic details. When selecting a shipping provider, it is important to compare services and prices to get the best value for your money. After choosing a carrier and completing all necessary paperwork, arrange for the shipment to be picked up or dropped off at your nearest shipping center. Be sure to take all necessary precautions to ensure your items are adequately packaged and labeled for transport.
Sky Van Lines is the premier long-distance moving company in Las Vegas. Our experienced staff offers a full range of services to make your move easy and stress-free. Sky Van Lines has been providing quality moving services for decades, so you can rest assured that we'll get your belongings safely to their new home. We understand how important it is for you to have a smooth transition, and our goal is to ensure that every customer's move is successful. If needed, we offer comprehensive packing, loading, delivery services, and storage options. Sky Van Lines provides secure transportation with state-of-the-art trucks and GPS tracking systems. Our team is dedicated to providing top-notch service while maintaining an affordable price.