Long Distance Movers | Fine Arts & Antiques: Tips for Moving and Packing
Dec 14
Many people find themselves overwhelmed with the task when it comes time to move. There are many things to think about – what needs to be packed, what can be left behind, and how everything will get from Point A to Point B. One of the most daunting tasks is packing your beloved fine arts and antique collection. But with some preparation and organization, you can safely transport them without a hitch.
Use Professional Packers and Movers:
Professional packers and movers will take extra care to ensure that your items are packed correctly, so they don't get damaged or broken during the move. They will also be better suited to handle delicate art pieces since they have experience packing them safely. Professional movers can also help you assemble and disassemble furniture, saving you time and effort. Lastly, they are experienced in loading and unloading trucks so that your items are safe during transport.
In addition to these benefits, professional packers and movers have an extensive network of contacts across different cities, which makes it easier for them to move your items quickly if you're moving across states or countries. They also know their way around local laws and regulations regarding transit times to ensure that your items reach their destination on time. Professional packers and movers also provide insurance policies for any damages incurred during the move so that you have peace of mind knowing that your belongings are covered should anything happen while in transit.
Before you start packing, take pictures of each item in your collection to have a visual record of what the things look like before, during, and after moving. This will also help to ensure that pieces are recovered and intact during transit. Additionally, be sure to have a master list of all the items in your collection that you can use as a reference during packing. This will help you to keep track of what is being packed and make it easier to find items if needed during the move.
When packing, it's essential to use plenty of protective packaging materials such as bubble wrap, tissue paper, and foam peanuts. These materials will cushion fragile items and protect them from bumps and scratches during transit. Additionally, ensure each box is labeled with its contents, so you know where everything goes when unpacking at the other end. It would help if you also considered using specialty boxes or cases for more delicate artwork or antiques. These boxes are designed to provide extra protection and support for items that require special care during transit.
When packing fragile items such as glass frames or delicate sculptures, use plenty of bubble wrap or foam padding to protect them from breakage. Additionally, fill sturdy boxes and containers to avoid crushing lighter objects. For china, use wrapping paper and packing material to protect them from scratching or breaking. Place heavier items on the bottom of the box and layer lighter objects on top for support. Finally, mark any fragile items with a warning sticker or label, so they are handled with extra care during transport. Once all items have been packed, close the boxes securely with tape and bubble wrap or foam padding around each box if necessary. Label your boxes with an address label and a "Fragile" sticker before sending them off. Keep track of the tracking number if you need to check up on the shipment's location at any time. Once your package has arrived safely at its destination, take a moment to celebrate a job well done! With these simple tips, you'll be able to ensure that any fragile items are packed safely and securely for their journey. Good luck and happy packing!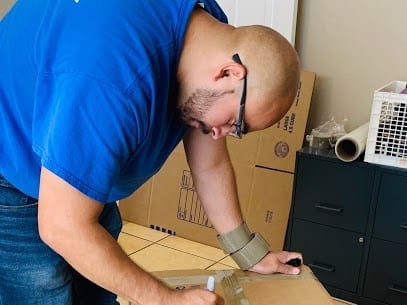 Clearly label all your boxes with the contents inside so that you know precisely what is inside each box without having to open it up and rummage through it when unpacking. This will make finding what you need easier and put things away quickly. Consider using a labeling system, such as one that uses colors or numbers for different room categories, to identify each box soon. Before putting them in boxes, take the time to cushion fragile items properly with plenty of packing peanuts, bubble wrap, or other packing materials. This will help to protect them during the move and ensure nothing is broken when you reach your new home. Place heavy items in small boxes so they can easily lift and transport them.
If you have any items that are particularly valuable or sentimental, consider taking them with you in the car instead of packing them away with the rest of your items. This will help to ensure that these unique items remain safe and secure throughout the move. Additionally, research the area beforehand if you are moving to a different city or state. Look into local amenities such as parks, restaurants, and other attractions that can help you to make your transition smoother. Finally, remember that every move goes differently than planned. If something does not go according to plan, take a deep breath and try to find an alternate solution. Taking a few moments to pause and think of creative solutions will help ensure a smooth move.
By following these steps and taking extra care when packing and moving your fine arts and antiques, you can ensure they all arrive safely at their new home! Good luck!
Sky Van Lines is the perfect choice for long-distance moves to Las Vegas. We are a family-owned business providing quality local and long-distance moving services in Las Vegas. Sky Van Lines is one of the most experienced, reliable, and respected moving companies in Las Vegas. We understand the stress of moving and strive to provide an efficient and smooth transition for each customer. Our team of professional movers has years of experience and expertise in packing, loading, and unloading your belongings safely and securely. Sky Van Lines provides a full range of relocation services customized to meet your needs, including packing/unpacking, short or long-term storage solutions, furniture disassembly/reassembly, appliance installation, plus interstate transportation services with the utmost care and attention to detail. Sky Van Lines is committed to providing the highest levels of customer satisfaction because we understand that your move should be as stress-free and enjoyable as possible. Contact Sky Van Lines today for all your long-distance moving needs in Las Vegas!